Umbwe Route

The Umbwe route, which is based in the south, is a classic 6 day tour and is by far the most difficult one offered on Kilimanjaro. The first two days are extremely steep, muddy and generally strenuous making it only suitable for well-trained mountaineers. An acclimatization day is rarely offered on the standard programme, but can be added whereby giving the climber an extra day in the Karanga Valley. The descent trail is the same as the Mweka Route.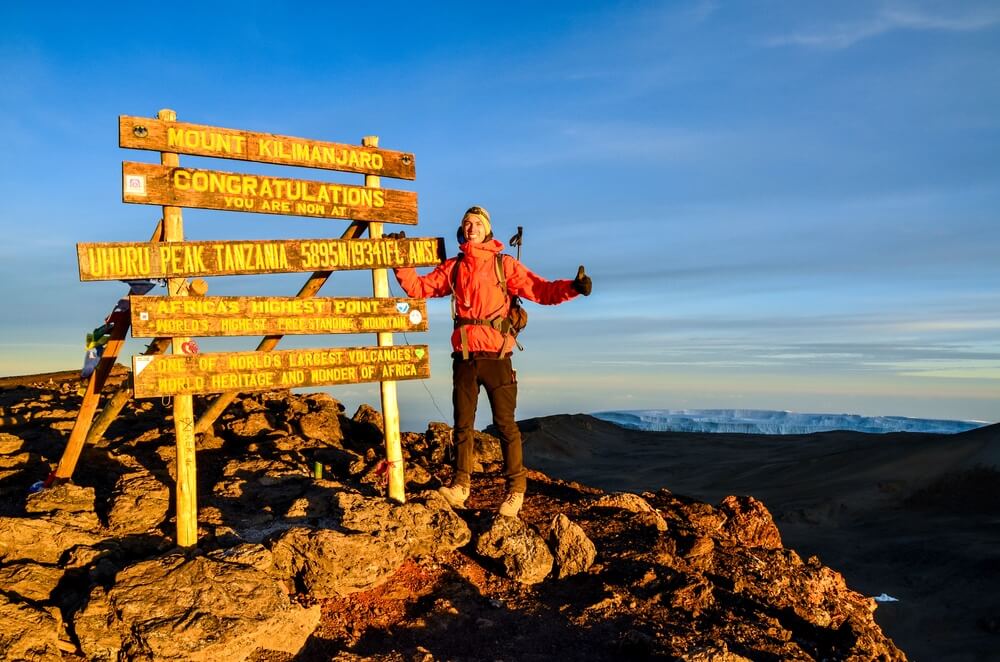 DAY 1
Pick up from Arusha town or Kilimanjaro International Airport and transfer to Moshi town, which is commonly known as the gateway to Mount Kilimanjaro. Half Board accommodation at a Base Hotel in Moshi.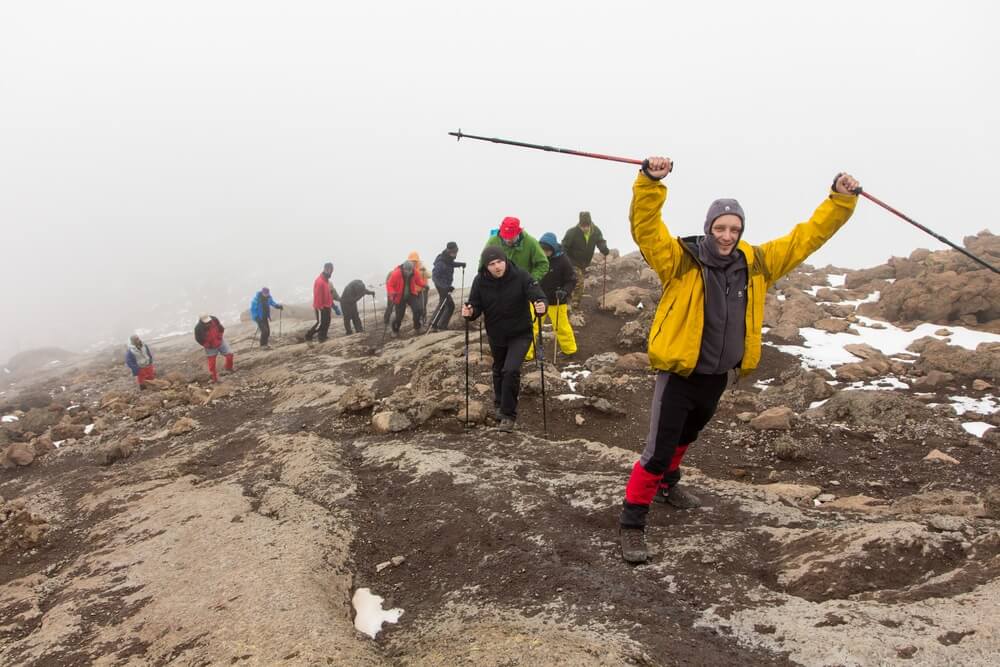 DAY 2
Umbwe Cave Camp – Elevation (m): 2940m – Elevation (ft): 9500ft – Distance: 8 km. Hiking Time: 6-7 hours. Habitat: Montana Forest. The majority of the hike on this first day is through the Montana Forest. Lush vegetation with very old trees and lilts of ferns and mosses mark this as an area that gets reliable rain year-round. The forest abounds with wildlife; small bushbuck & duikers as well as monkeys. There is also a rich and varied birdlife. The first three hours or so is on gently rising land before steepening for the last two hours. The camp for the night is in a small clearing on the trail.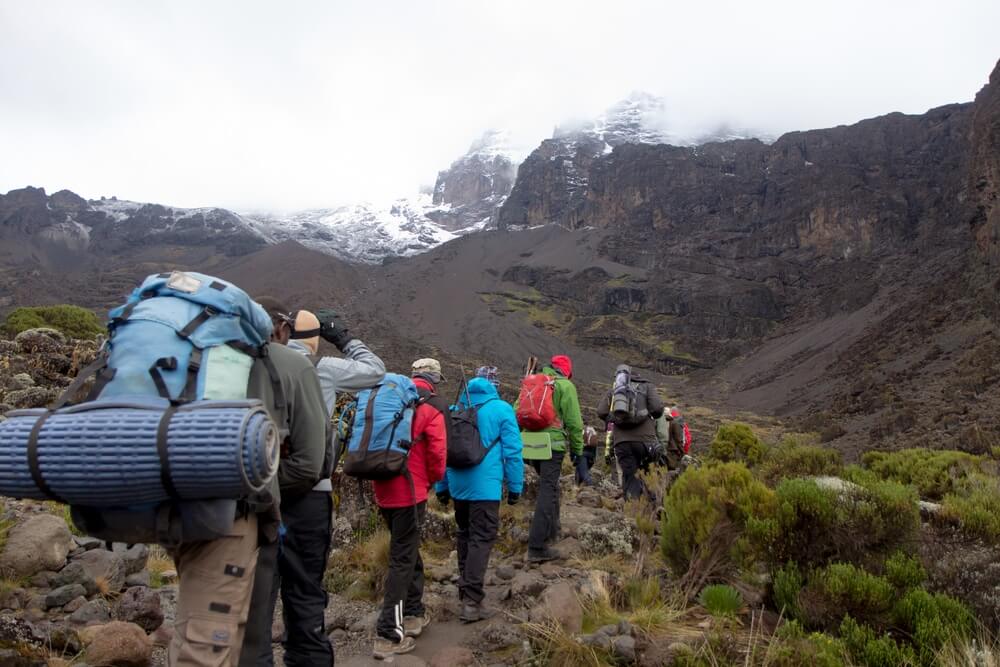 DAY 3
Umbwe cave Camp to Barranco Camp – Elevation (m): 3860m. Elevation (ft): 12,800ft – Distance: 8 km. Hiking Time: 6-7 hours – Habitat: Alpine Desert. Shortly after starting the hike the forest gradually gives away to the giant heath. The trail has been following a ridge for some time and as it ascends through the heathland the ridge narrows and sharpens, finally becoming knife edge with steep drops on each side. As the height of the heath reduces there are stunning views of both Kilimanjaro's southern flank and across the Mount Meru some 50 miles away. Wildlife changes with the vegetation, jackals may be heard barking and the huge Lammergeyer are seen circling overhead. The camp is overlooking the Barranco Valley with views up towards Arrow Glacier.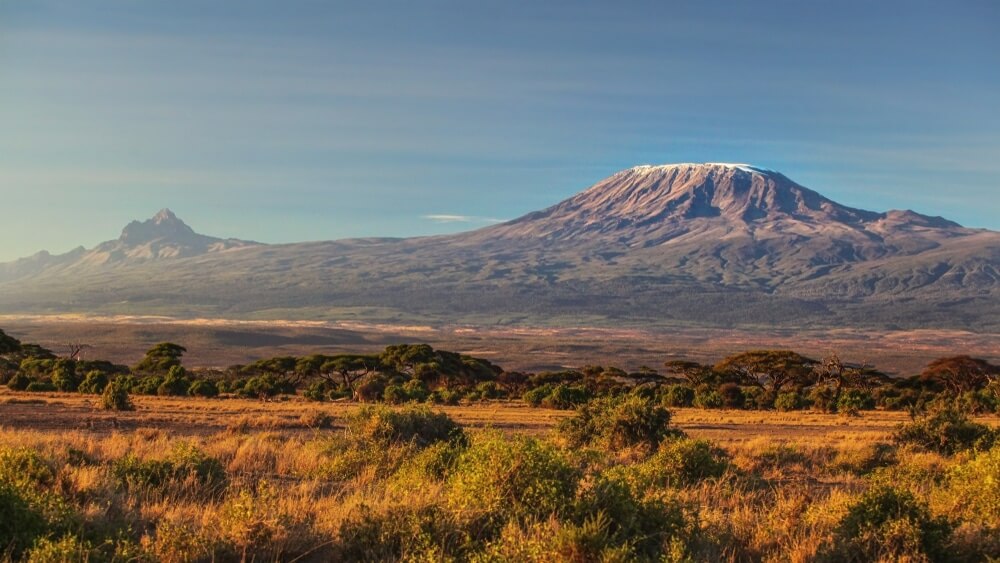 DAY 4
Barranco Camp to Karanga Camp – Elevation (m): 3860m to 4000m – Elevation (ft): 12,700ft to 13,800ft. Distance: 7 km. – Hiking Time: 4 hours – Habitat: Alpine Desert. On the eastern side of the valley, across the stream is the Barranco Wall – a 950 ft. a barrier of volcanic rock. Although it is tall and looks steep, it is very easy to climb. This is our first challenge of the day. The views from the wall are nothing less than magnificent. The rest of the day is spent skirting the base of Kibo peak over our left shoulder. We descend down into the Karanga Valley, where we rest up for the night before the tough climb up to Barafu hut.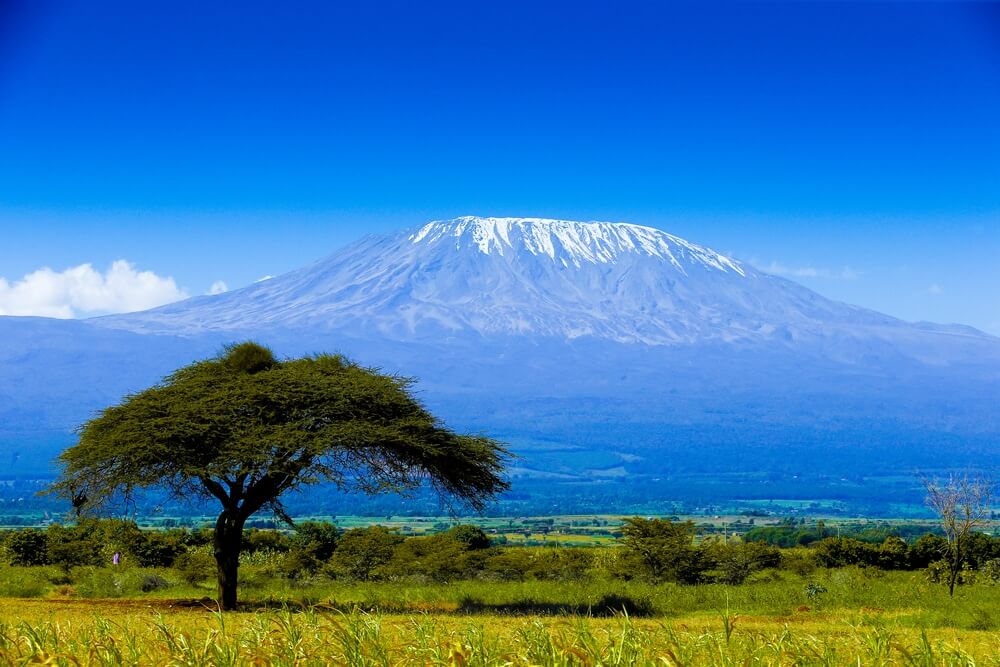 DAY 5
Karanga Camp to Barafu Camp – Elevation (m): 4,600 m – Elevation (ft): 15,100ft – Hiking time: 6hrs Distance: 7km – Habitat: Alpine desert From Karanga the tour heads up a moraine ridge taking your time and going slowly. The views here can be spectacular on the southern glaciers and of the glacial valleys that snake their way down the mountain. The final stage to Barafu is quite steep, and as always it's taken it very slowly. As with the day before you reach camp by around lunch time leaving lots of time to prepare and relax. In the evening your guide briefs you for the final ascent.
DAY 6
Barafu Camp to Summit to Mweka Hut – Elevation (m): 4600m to 5895m (and down to 3100m) Elevation (ft): 15,100ft to 19,300ft (and down to 10,200ft) – Distance: 7km ascent / 23km descent. Hiking Time:6- 8 hours ascent / 7-8 hours descent. – Habitat: Stone scree and ice-capped summit. Very early in the morning (midnight to 2 am), we continue our way to the summit between the Rebmann and Ratzel glaciers. You head in a northwestern direction and ascend through heavy scree towards Stella Point on the crater rim. This is the most mentally and physically challenging portion of the trek. At Stella Point (5685m / 18,652 ft), you will stop for a short rest and will be rewarded with the most magnificent sunrise you are ever likely to see (weather permitting). From Stella Point, you may encounter snow all they way on your 1-hour ascent to the summit. At Uhuru Peak, you have reached the highest point on Mount Kilimanjaro and the continent of Africa. Faster hikers will see the sunrise from the summit. It can be very cold at night at these elevations, but it will be quite warm by the end of the hiking day. You will want clothing suitable for both extremes with you. From the summit, we now make our descent continuing straight down to the Mweka Hut camp site, stopping at Barafu for lunch. You will want gaiters and trekking poles for the loose gravel going down. Mweka Camp is situated in the upper forest and mist or rain can be expected in the late afternoon. Later in the evening, we enjoy our last dinner on the mountain and a well-earned sleep.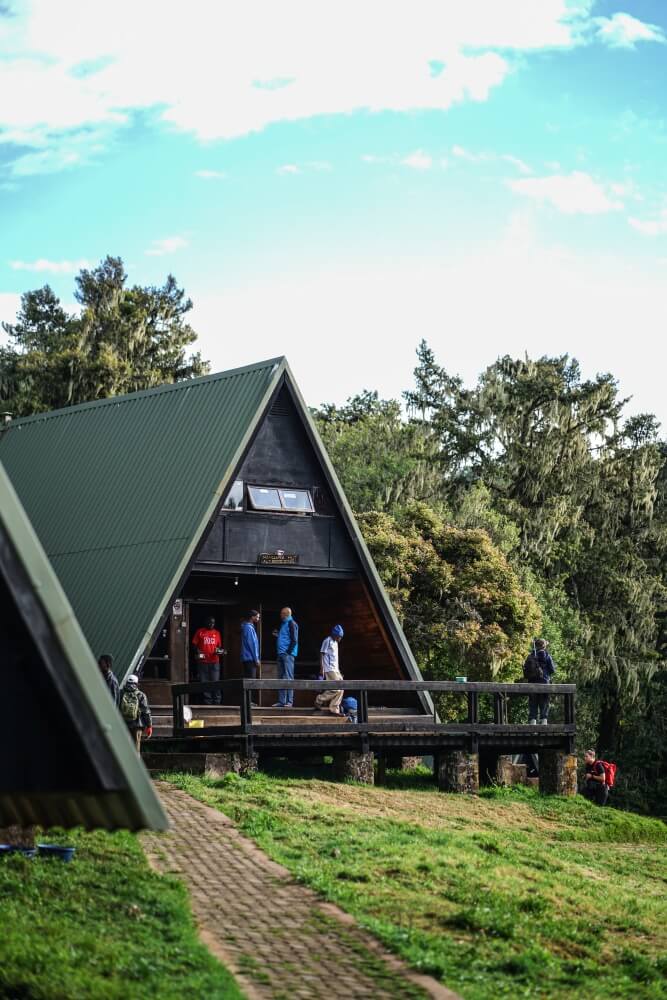 DAY 7
Mweka Camp – Mweka gate – Elevation (m): 3100m to 1830m – Elevation (ft): 10,200ft to 6000ft Distance: 15 km – Hiking Time: 5 hours – Habitat: Forest After breakfast, we continue the descent down to the Mweka Park Gate to receive your summit certificates. At lower elevations, it can be wet and muddy. Gaiters and trekking poles will help. Shorts and t-shirts will probably be plenty to wear (keep rain gear and warmer clothing handy). To the gate where you will be met by our driver and transferred back to a Base Hotel in Moshi for dinner and overnight stay.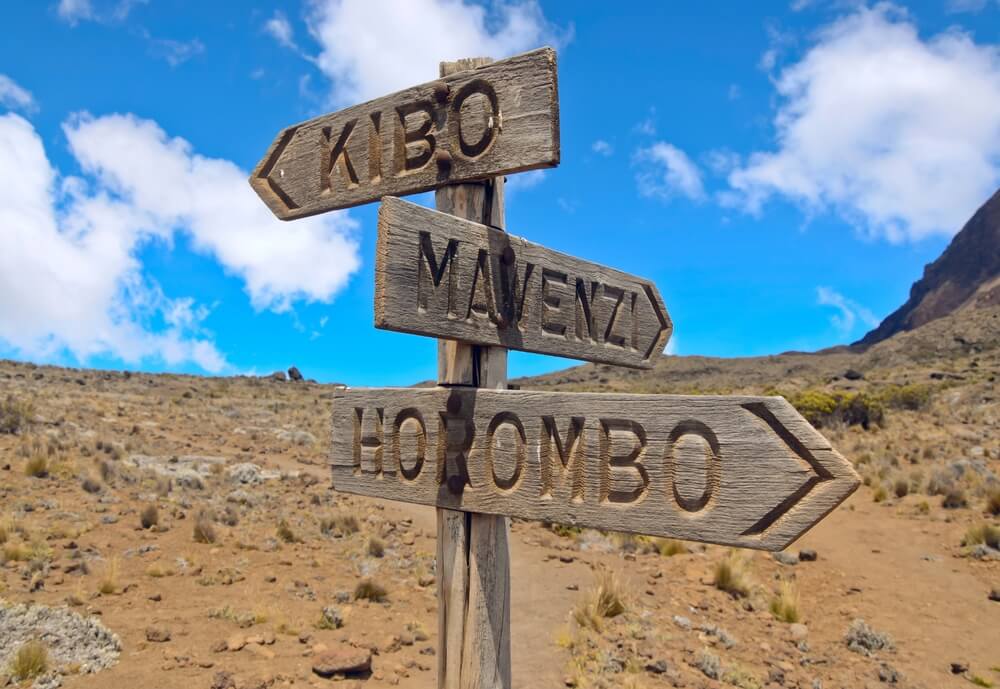 DAY 8
After breakfast, transfer back to Arusha town.
Note: Additional Itinerary Available
Covid Policy
As the vaccine rolls out, it is everyone's hope to see the end of COVID-19 soon, and with it the return to normal international travel.
Tanzania has remained open to international travel since June 2020 but the number of visitor arrivals has stayed very low. Tanzania is endorsed as a Safe Travels destination by the World Travel and Tourism Council (WTTC) in recognition of the measures being taken by the country in adopting the global standard health and hygiene protocols to contain the spread of corona virus.
A COVID-19 negative certificate is not a requirement for entry into Tanzania. As it is, the requirement for a COVID-19 negative certificate for entry or departure is dependent on the country of origin of the traveler and the airline of travel.
Departing travelers whose onward destinations and airline require a COVID-19 negative certificate, will undergo testing in Tanzania, this could be 72 hours or 96 hours before departure depending on the airline and onward destination. The cost for the COVID-19 test is USD 100 per person, please see attached guide for COVID-19 testing by the Tanzania Ministry of Health.
Given our experience with the few tests we have assisted so far, for example for clients departing on KLM or those crossing over to Kenya, guests' operating itineraries are at times subjected to rerouting for COVID-19 samples to be taken at the designated health centers at the recommended time for testing. This may also involve some extra cost on the ground but you will be informed in due course to ensure that guests' travel is as smooth as possible.
The safety and wellbeing of our guests, staff and the public remains our highest priority.  We have placed a few policies in place to ensure as smooth a transition as possible for all our clients:
1. All Driver guides and staff members are subject to a temperature check before the start of any trip and/or day.
2. Driver Guides must present with a negative PCR test before taking on any safari trip.
3. Sanitizers and masks are at use throughout. As per CDC guidelines, those clients who are fully vaccinated are free to roam without masks and/social distancing. However, as Tanzania is still working through getting its population vaccinated, our driver guides and staff members ensure the use of masks and sanitizers throughout.
Covid Financial Policy:
1) 100% refund will be issued if cancelled 60 days prior to travel
If COVID-19 travel restrictions are in place in your country of residence or destination and/or other clear restrictions on your ability to travel due to possible complications associated with COVID-19, you are able to cancel your Jungle Safaris itinerary without any cancellation fees
2) Ability to defer your Jungle Safaris trip 60 days prior to travel
If COVID-19 travel restrictions are in place in your country of residence or destination and/or other clear restrictions on your ability to travel due to possible complications associated with COVID-19, you are able to defer your Jungle Safaris itinerary with no fees.
Click here for information on