Jungle's Kingdom Safari
Jungle Kingdom is the perfect destination to experience the African Safari Adventures. You can dedicate a few of your days to discover the beauty and exquisiteness of the Savannah. The nights can be spent stargazing with the sounds of the wild. A great way to experience the true essence of the wild. The first ray of sunlight in the morning will wake you up and the gorgeous sunsets will make you wish that you could never go back.
Jungle's Signature Safari
The Jungle's Signature Safari is a special and engaging safari that is specially designed by us so that you can have that perfect experience of an African safari. This safari allows you to satisfy all your adventure and excitement needs by exploring the rich and magnificent culture of Tanzania.
Jungle's Pioneer Safari
If you really have the heart for that true African Safari Adventures, then this one is for you. The Jungle's pioneer safari requires the fearless and extremely adventurous people. This safari explores the Tanzanian hinterland and plains of Tarangire, Serengeti, Ngoronogro, and Ndutu. This safari is the ultimate experience of exploration and discovery.
Jungle's High Point Safari
The Jungle's High Point Safari is for the people who are interested in discovering and exploring the wildlife of Africa but are short on time. You can experience the true African safari by visiting the famous game reserves. This is also the place where you can discover the cradle of life. A good engagement with the Tanzanian food and culture will give you an insight into the native life.
Jungle's Majestic Safari
Allow yourself to submerge into the luxury African Safari Vacations through this Jungle's Majestic Safari that allows you to experience luxury and nature side by side. 
Jungle's Bwana & Bibi Safari
A safari that creates a paradise of love. Feel the romance under the African sun surrounded by stunning landscapes and beautiful wildlife. Connect with each other through adventure as you explore a magical place. We will take care of the entire journey; leaving you stress free to enjoy each other as bwana and bibi.
Jungle's Compass Safaris
A safari that follows the needle of exploration with creature comforts. Explore the North and South of Tanzania with breathtaking landscapes; colorful wildlife; and hospitable culture of the Tanzanian people. Let the spirit of the compass guide you to a lifetime of adventure.
Jungle's Ndege Safaris
A safari through the eyes of a bird. Nest in the treetops and soar through the African skies flying between game reserves for an immersive experience.
Jungle Safaris Meets Ndutu
A safari spectacle that showcases the Great Migration. Follow the millions of wildebeest as they descend upon the Ndutu region to begin the calving season, giving birth to thousands of calves a day. This attracts the attention of predators such as lions, cheetahs, and serval others, creating a melting pot of the circle of life.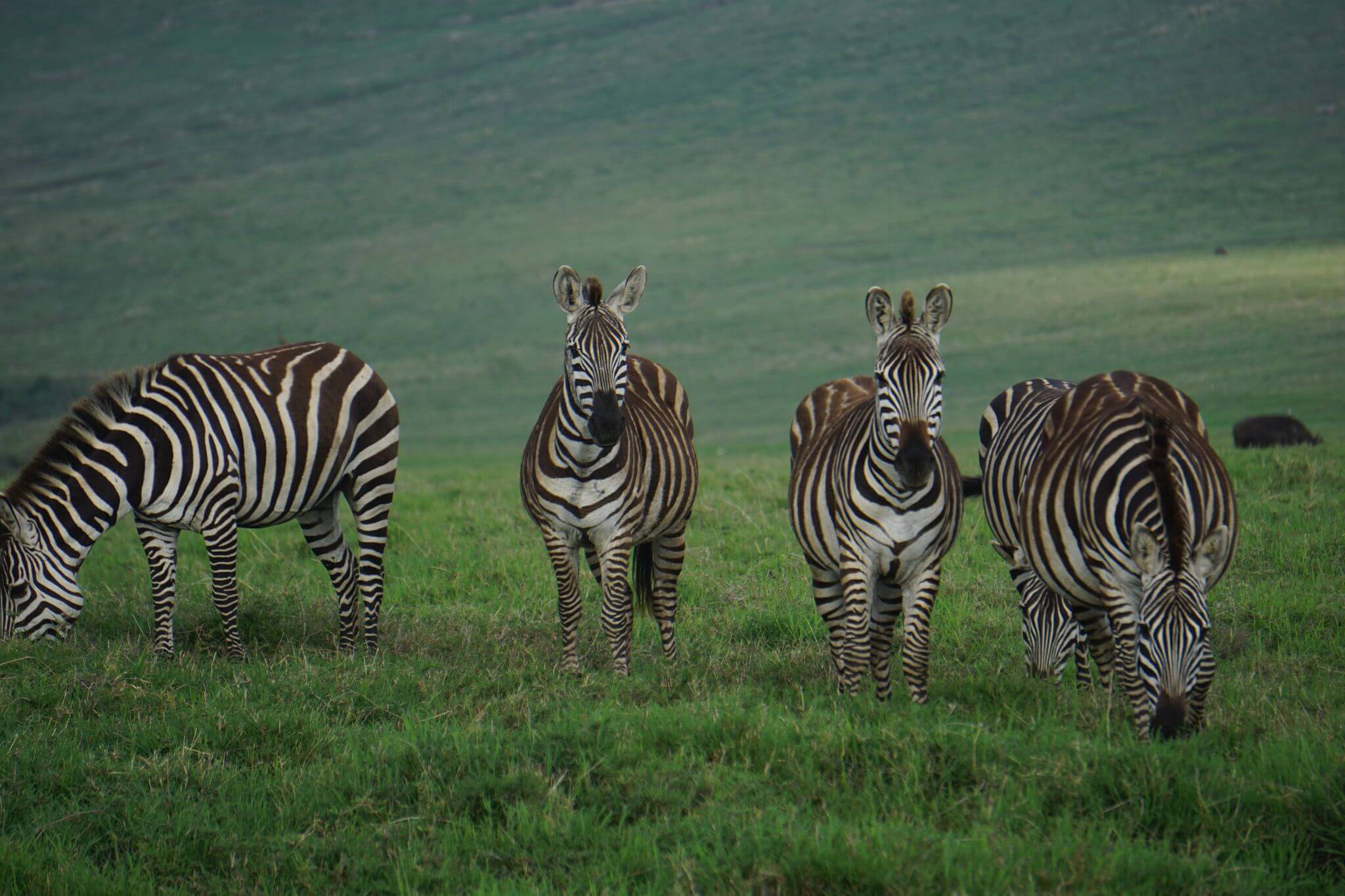 Jungle's Camping Safaris
A safari that stretches your coin without compromising on a world class safari experience. We cater to many travelers far and wide accommodating for different price points. Experience the North and South of Tanzania and all the wonders in between.
Jungle's Tailor-Made Safari
Nature has evolved to give many possibilities. Why should your safari be any different? We offer Tailor-made safari packages to create an experience that is unique only to you. We offer customized itineraries; customized game reserve experiences; and customized travel destinations.
Covid Policy
As the vaccine rolls out, it is everyone's hope to see the end of COVID-19 soon, and with it the return to normal international travel.
Tanzania has remained open to international travel since June 2020 but the number of visitor arrivals has stayed very low. Tanzania is endorsed as a Safe Travels destination by the World Travel and Tourism Council (WTTC) in recognition of the measures being taken by the country in adopting the global standard health and hygiene protocols to contain the spread of corona virus.
As of 17th March 2022, all travelers to Tanzania who are fully vaccinated and hold a form of COVID-19 proof of vaccination (WHO approved vaccines) will no longer be required to present a COVID-19 PCR certificate upon arrival in Tanzania.
However, as is always the case, please check with your airline for any other requirements on their part and any other stops you may be making.
The safety and wellbeing of our guests, staff and the public remains our highest priority. We have placed a few policies in place to ensure as smooth a transition as possible for all our clients:
1. All Driver guides and staff members are subject to a temperature check before the start of any trip and/or day.
2. Driver Guides must present with a negative PCR test before taking on any safari trip.
3. Sanitizers and masks are at use throughout. As per CDC guidelines, those clients who are fully vaccinated are free to roam without masks and/social distancing. However, as Tanzania is still working through getting its population vaccinated, our driver guides and staff members ensure the use of masks and sanitizers throughout.
Covid Financial Policy:
1) 100% refund will be issued if cancelled 60 days prior to travel
If COVID-19 travel restrictions are in place in your country of residence or destination and/or other clear restrictions on your ability to travel due to possible complications associated with COVID-19, you are able to cancel your Jungle Safaris itinerary without any cancellation fees
2) Ability to defer your Jungle Safaris trip 60 days prior to travel
If COVID-19 travel restrictions are in place in your country of residence or destination and/or other clear restrictions on your ability to travel due to possible complications associated with COVID-19, you are able to defer your Jungle Safaris itinerary with no fees.
Click here for information on