Rongai Route
There is only one route over on the north eastern side of the mountain, Rongai, which is usually a five night climb. This lesser known track may not be quite as spectacular as the western routes, but it does usually have far lower traffic than the other five night routes. This route retains a sense of unspoilt wilderness and offers a different perspective on Kilimanjaro by approaching it from the north.It is generally considered to be the easiest of the quality routes on the mountain. Rongai is the best route for people who are looking for a decent quality experience and are perhaps not absolutely confident about your fitness.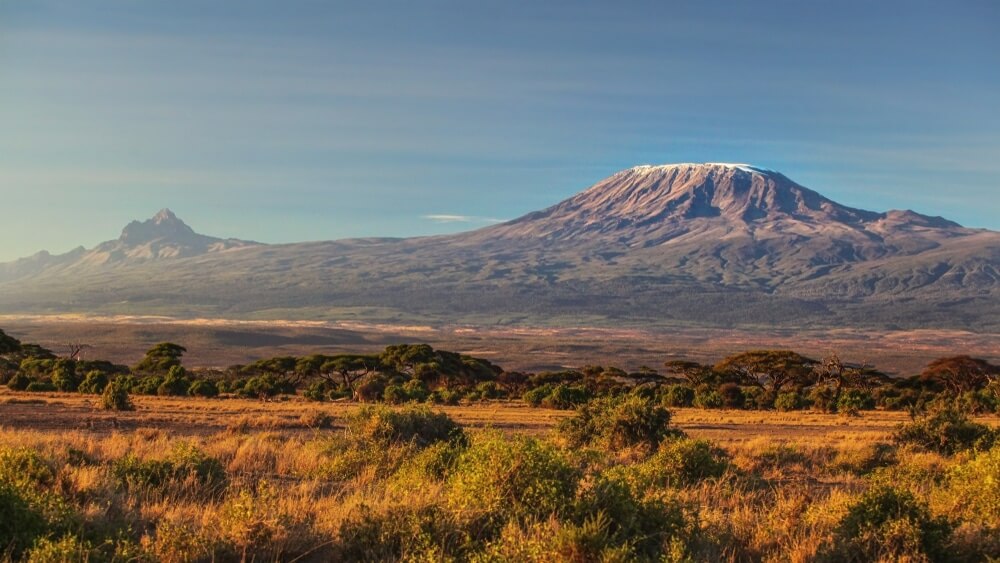 DAY 1
Pick up from Arusha town or Kilimanjaro International Airport and transfer to Moshi town, which is commonly known as the gateway to Mount Kilimanjaro. Half Board accommodation at a Base Hotel in Moshi.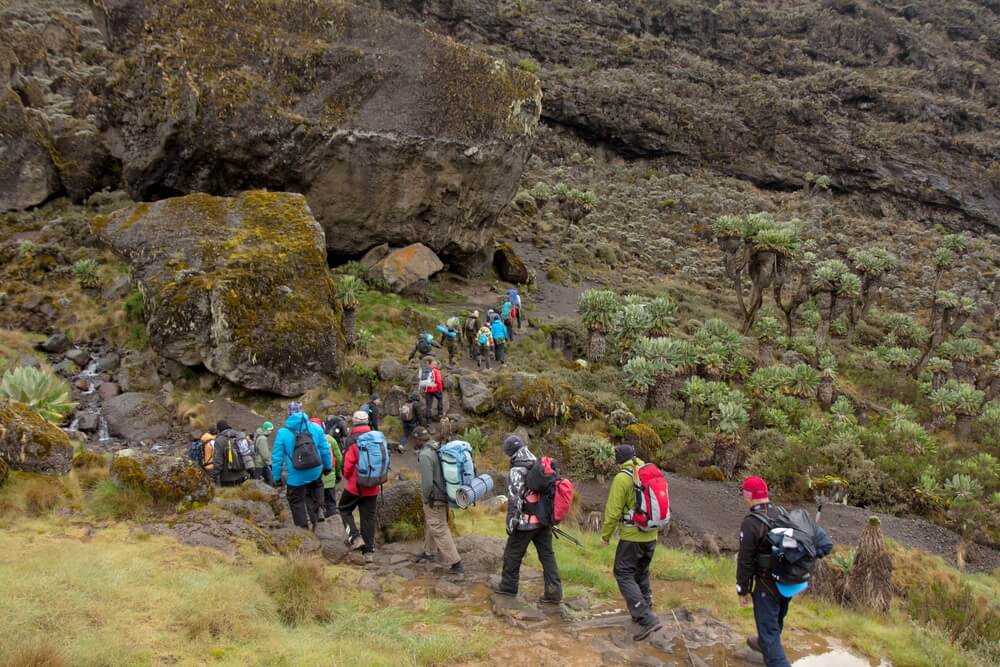 DAY 2
Rongai Gate (1950m) – 1st Caves camp (2600m) – Hiking time: 5 hours. – Habitat: Montane forest. Register at the Marangu park gate with a transfer (approximately 2 ½ hours) to the Rongai trailhead. Meet your guide and porters before you begin your hike from the Nale Moru village. The small winding path crosses maize fields before entering the pine forest and then climbs gently through a forest. The trail is not at all steep but is rather a gentle hike through a beautiful country. The first night's camp is at First Cave, at about 2,600 meters. There are a toilet and a wooden table with benches, but no hut. Water can be found just down the trail below First Cave.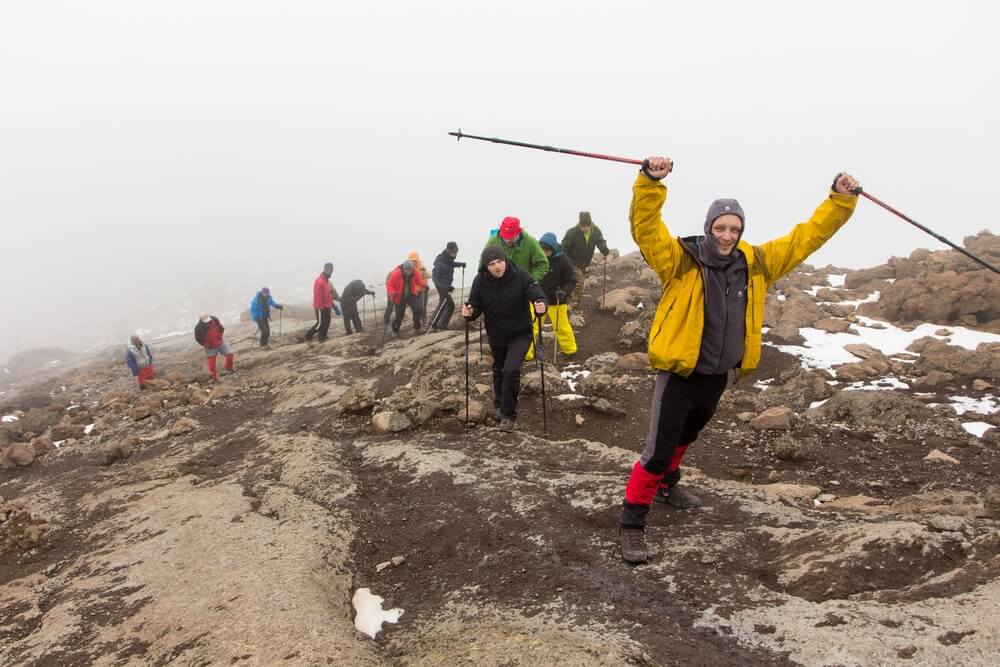 DAY 3
1st Cave (2600m) – Kikelelwa Cave (3600m) – Hiking time: 6-7 hours. – Habitat: Moorlands. The trail continues up towards Kibo, passing Second Cave (3450m) en-route, and reaching Kikelelwa Cave at about 3600 meters. The views start to open up and you begin to feel you're on a really big mountain! Water is in the obvious stream below the cave, although you might have to wander downhill a way to find some. Overnight stay at Kikelelwa Cave camp.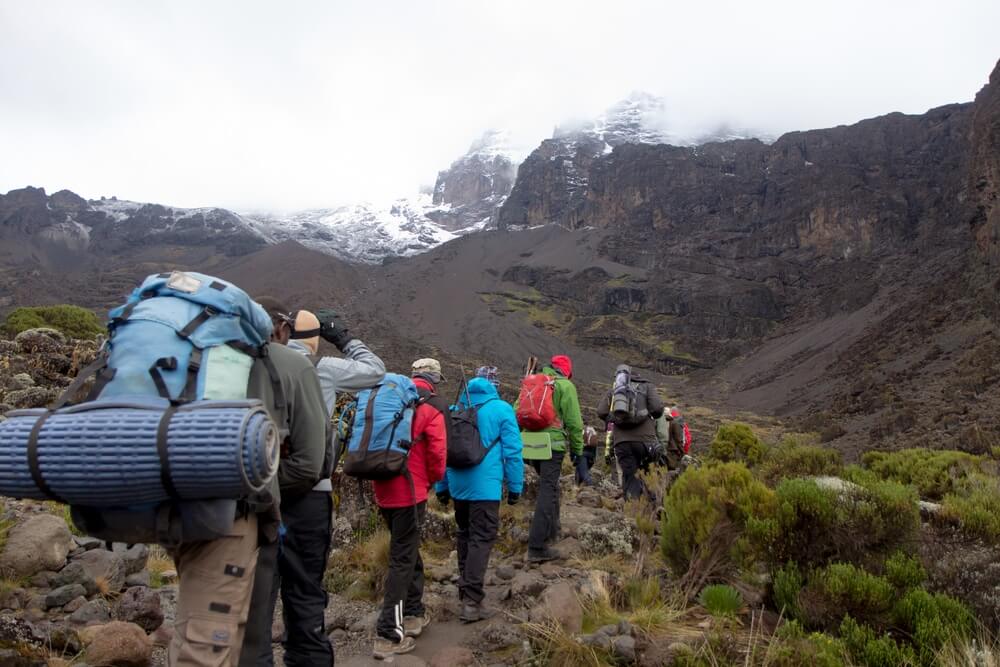 DAY 4
Kikelelwa Cave (3600) – Mawenzi Tarn camp (4330m) – Hiking time: 3-4 hours. – Habitat: Moorlands; A short but steep climb up grassy slopes offers superb views of this wilderness area. The vegetation zone ends shortly before you reach your next camp at Mawenzi Tarn spectacularly situated beneath the towering spires of Mawenzi. Spend the afternoon acclimatizing and exploring the area.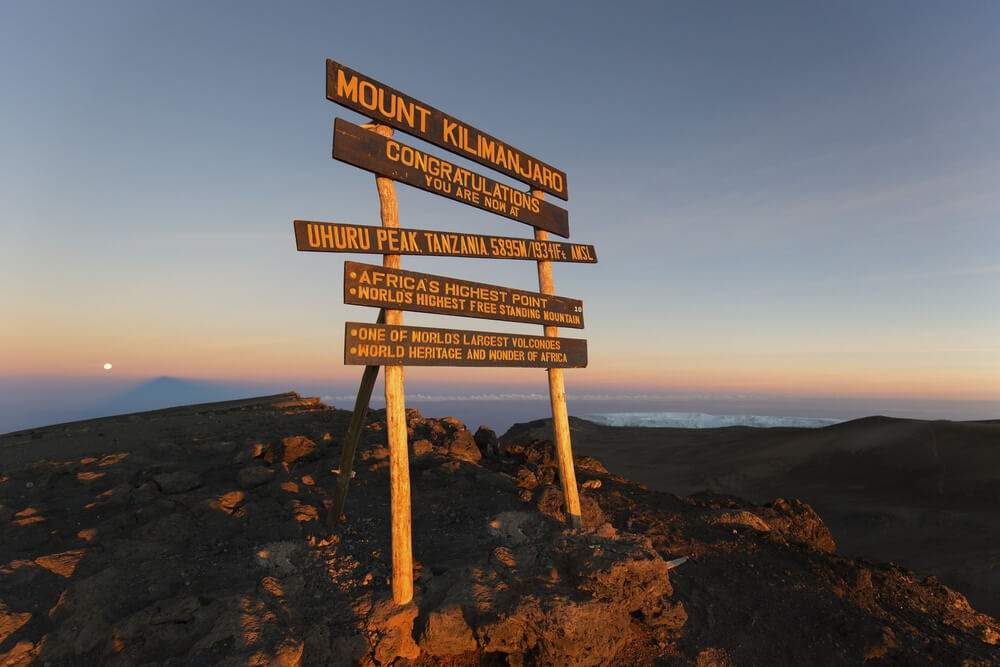 DAY 5
Mawenzi Tarn camp (4330m) – Kibo hut (4700m) – Hiking time: 4 – 5 hours. – Habitat: Alpine desert. Continue ascending on the east side of Kibo crossing the saddle between Mawenzi and Kibo taking 4 to 5 hours to reach Kibo Hut. The remainder of the day is spent resting in preparation for the final ascent, which begins at midnight. Overnight at Kibo Camp.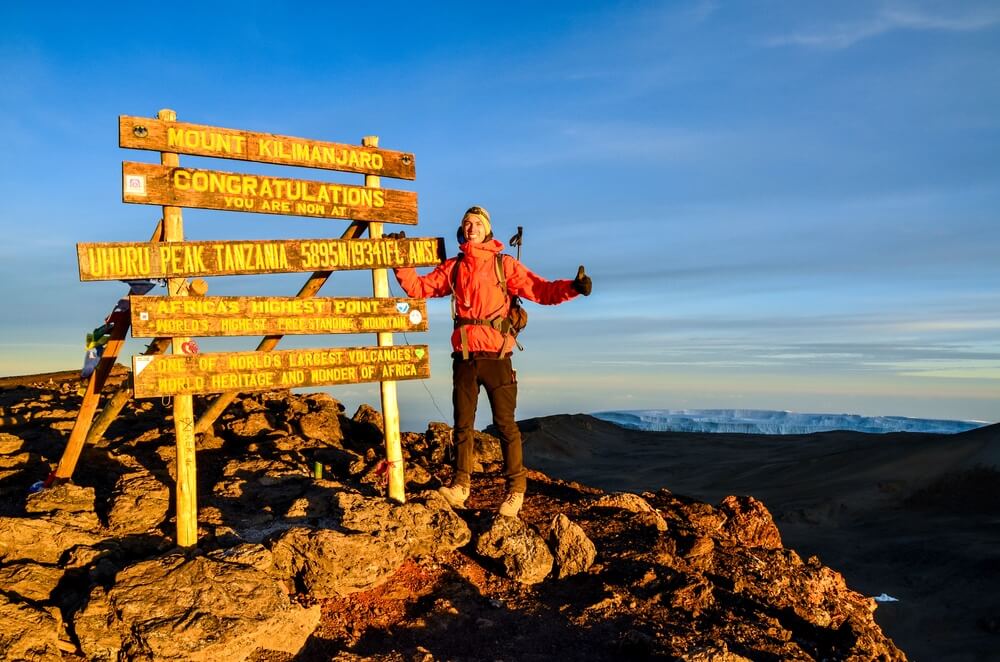 DAY 6
Summit Attempt, Kibo hut (4700m) – Uhuru Peak (5895m) – Horombo hut (3720m) Hiking time: 8 hours to reach Uhuru, 6 hours to descend to Horombo. Distance: 6 km's ascent – 21 km's descent. – Habitat: Stone scree and ice-capped summit. You will rise around 23:30hr, and after some tea and biscuits you shuffle off into the night. This is where the going really gets tough. The first section of the trail consists of a rocky path to the Hans Meyer Cave (5150m), also a good resting spot. The path then zigzags up to Gillman's point (5 681m), which is located on the crater rim. This section is very steep with a lot of stone scree, requiring a great physical and mental effort. Probably the most demanding section of the entire route. Do the Kilimanjaro shuffle and move slowly. From Gillman's Point you will normally encounter snow all the way up to Uhuru peak (5895m), the highest point in Africa. Total exhilaration and satisfaction – you made it. Weather conditions on the summit will determine how long you can spend, taking photographs, before the 3-hour descent back to Kibo hut. After a short rest you gather all your gear for the ascent and head down to Horombo hut (3 hours) where you will overnight. The return to Horombo hut will seem surprisingly fast compared to the ascent. The total time spent walking on this day is around 14 hours, so be prepared for a very tough day. Later in the evening you enjoy your last dinner (with soft drinks and beer for sale at the camp office) on the mountain and well-earned sleep, filled with memories and stirring emotions.
DAY 7
Horombo hut (3720m) – Marangu Gate (1980m) – Hiking time: 6 hours. – Distance: About 27 km's. After breakfast you continue your descent (6 hours), passing the Mandara hut, down to the Marangu gate. At Marangu gate you sign your name and details in a register. This is also where successful climbers receive their summit certificates. Those climbers who reached Gillman's Point (5685m) are issued with green certificates and those who reached Uhuru Peak (5895m) receive gold certificates. You now drive back to Moshi for a long overdue hot shower, dinner and celebrations!! Accommodation at a Base Hotel in Moshi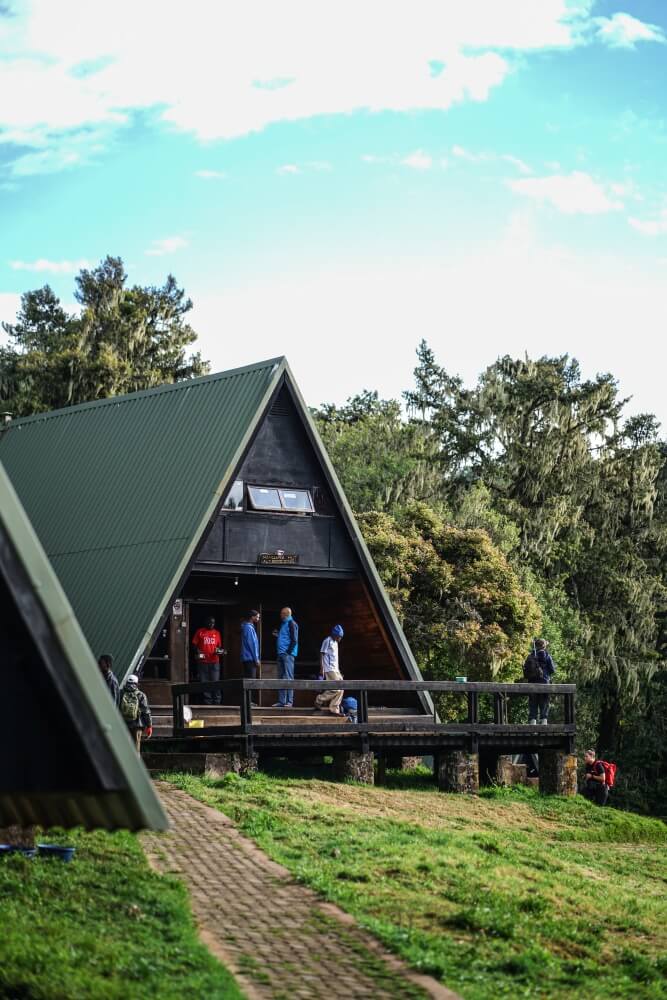 DAY 8
After breakfast, transfer back to Arusha town.
Note: Additional Itinerary Available
Covid Policy
As the vaccine rolls out, it is everyone's hope to see the end of COVID-19 soon, and with it the return to normal international travel.
Tanzania has remained open to international travel since June 2020 but the number of visitor arrivals has stayed very low. Tanzania is endorsed as a Safe Travels destination by the World Travel and Tourism Council (WTTC) in recognition of the measures being taken by the country in adopting the global standard health and hygiene protocols to contain the spread of corona virus.
A COVID-19 negative certificate is not a requirement for entry into Tanzania. As it is, the requirement for a COVID-19 negative certificate for entry or departure is dependent on the country of origin of the traveler and the airline of travel.
Departing travelers whose onward destinations and airline require a COVID-19 negative certificate, will undergo testing in Tanzania, this could be 72 hours or 96 hours before departure depending on the airline and onward destination. The cost for the COVID-19 test is USD 100 per person, please see attached guide for COVID-19 testing by the Tanzania Ministry of Health.
Given our experience with the few tests we have assisted so far, for example for clients departing on KLM or those crossing over to Kenya, guests' operating itineraries are at times subjected to rerouting for COVID-19 samples to be taken at the designated health centers at the recommended time for testing. This may also involve some extra cost on the ground but you will be informed in due course to ensure that guests' travel is as smooth as possible.
The safety and wellbeing of our guests, staff and the public remains our highest priority.  We have placed a few policies in place to ensure as smooth a transition as possible for all our clients:
1. All Driver guides and staff members are subject to a temperature check before the start of any trip and/or day.
2. Driver Guides must present with a negative PCR test before taking on any safari trip.
3. Sanitizers and masks are at use throughout. As per CDC guidelines, those clients who are fully vaccinated are free to roam without masks and/social distancing. However, as Tanzania is still working through getting its population vaccinated, our driver guides and staff members ensure the use of masks and sanitizers throughout.
Covid Financial Policy:
1) 100% refund will be issued if cancelled 60 days prior to travel
If COVID-19 travel restrictions are in place in your country of residence or destination and/or other clear restrictions on your ability to travel due to possible complications associated with COVID-19, you are able to cancel your Jungle Safaris itinerary without any cancellation fees
2) Ability to defer your Jungle Safaris trip 60 days prior to travel
If COVID-19 travel restrictions are in place in your country of residence or destination and/or other clear restrictions on your ability to travel due to possible complications associated with COVID-19, you are able to defer your Jungle Safaris itinerary with no fees.
Click here for information on